The Icons of Plantagenet
June 3, 2021
The Icons released at the Mount Barker Cellar Door and online 5.6.2021 embody the story of Plantagenet Wines' enduring story and the quality of its single-vineyard old vines.  Wines are released only from exceptional vintages, and the 2018 vintage was indeed sublime.
"Our Icons reflect the significant contribution of two pioneers that have shaped the lineage of Plantagenet. Firstly Tony Smith, a distinguished leader of the WA Wine Industry and founder of Plantagenet. Secondly, Lionel Samson, the founder of Lionel Samson & Son, the oldest family business in WA, merchants, established when Western Australia was colonised in 1829.
These wines reflect the ultimate potential of our two oldest vineyards and are single vineyard, single block wines only made in exceptional vintages such as 2018. The 'Tony Smith' is vinified from the original Shiraz block from the Bouverie Vineyard planted in 1968. The 'Lionel Samson' is vinified from the first Cabernet Sauvignon block from the Wyjup Vineyard planted in 1971.
Crafted to evolve over a long cellaring period and celebrated in the years to come." – Tom Wisdom, Owner, Plantagenet Wines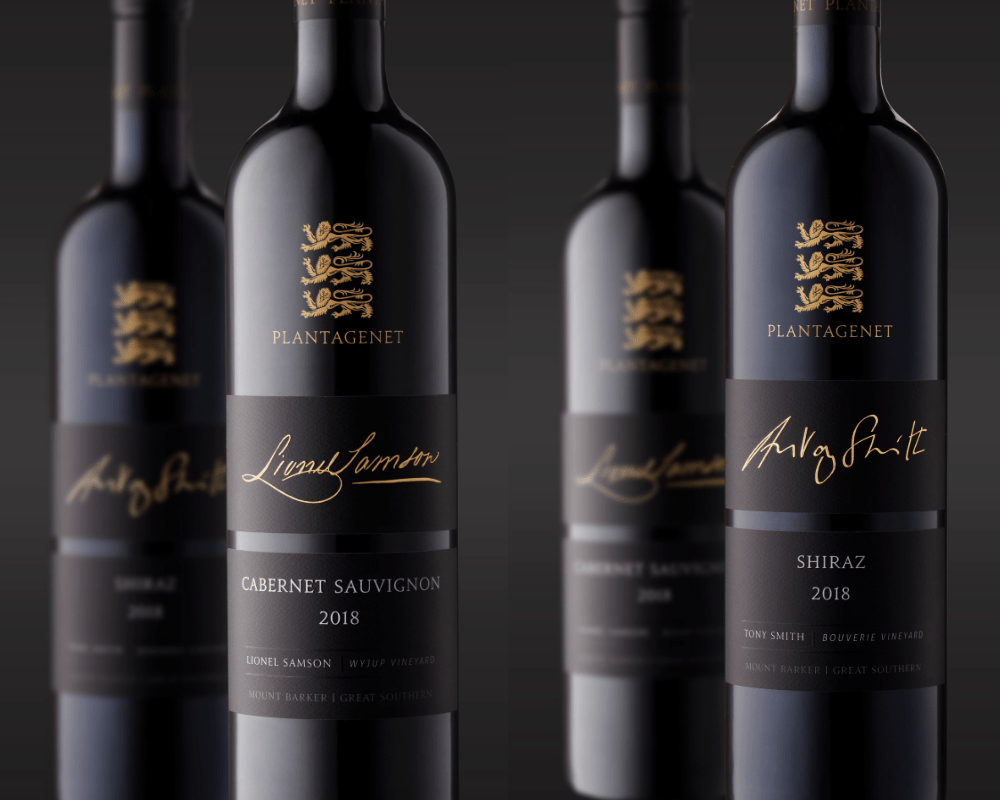 The history…
Tony Smith was born in England and migrated to Australia in 1960 before settling in Mount Barker, Western Australia, on a farming property he named 'Bouverie'. In 1974 Tony founded Plantagenet Wines, and a legacy was born. An apple packing shed in Mount Barker township became the first commercial winery in the Great Southern region. Tony is regarded as a pioneer of the modern WA wine industry and has been awarded the Jack Mann Memorial Medal, an Honorary Industry patron and life membership of the Mount Barker Wine industry Association. The 'Tony Smith' 2018 Shiraz celebrates his passion, vision and foresight…read Tony's story here.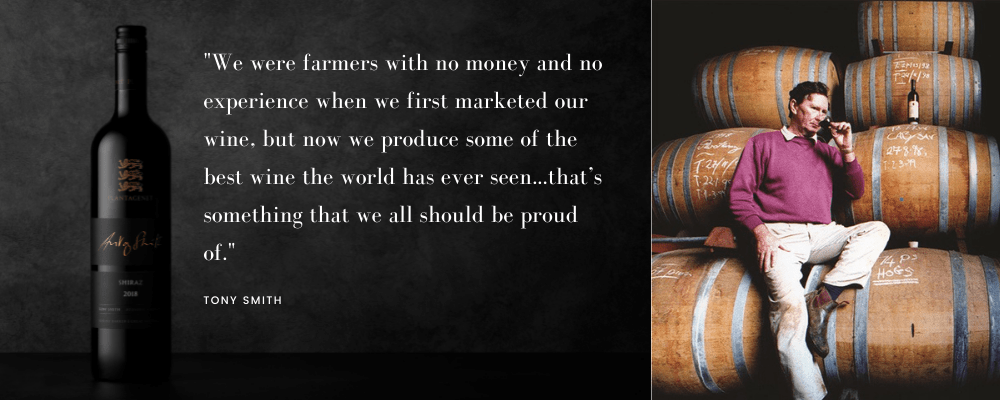 Lionel Samson was persuaded to come to Fremantle by Captain Stirling, the founder of the Swan River Colony. It was a challenging beginning; despite this, Lionel was among the first to receive land, and was appointed postmaster before setting up a merchant business. He received the first liquor license, which is still in existence in Western Australia. Presently, the business remains 100% family-owned and continues to thrive. His tradition and spirit live on in this Iconic wine 'Lionel Samson' Cabernet Sauvignon, as does his legacy due to a sixth-generation Samson, Tom Wisdom, retaining family ownership alongside his wife Jo in March 2021….read the Wisdom's story here.
The wine…
Icon 'Tony Smith' Shiraz 2018 – with only 1080 bottles made from the Bouverie Vineyard, the aromas are rich, brooding, deep; graphite, earth and gravel abound. Dark berries, subtle white pepper, violet florals and complex Chinese five-spice. The palate is firm, tightly structured, full-bodied buy stylish, cool-climate style with an incredible density of layered fruits, spice and licorice with a savoury edge. Tannins are firm, gravelly, yet fine with length and power. Built to age with cellaring potential up to 20 years.
Icon 'Lionel Samson' Cabernet Sauvignon 2018 – 1113 bottles made, this deep ruby red wine from the Wyjup Vineyard has brambled fruit aromas initially, evolving to reveal cassis, mulberry, bay leaf, olive tapenade, tobacco and a touch of savoury old-world character; truly fitting for a wine bearing this name. The palate is precise and well composed, even and fine. Mulberry, cassis, olive, bay leaf, earthy spice. A complex, nuanced and defined wine with grace and poise. The cellar at will, up to 30 years.
The Icons are available online, direct at the Cellar Door in Mount Barker or to our Wine Club exclusively
Highly limited availability, no discounts, restrictions on purchase quantities.