Twelve Wines – Lamont's Lunch, Dinner or Masterclass
August 5, 2021
John Jens has once again offered amazing value to taste our wines at Lamonts Wine Store in Cottesloe. The pre-release of the 2020 Wyjup Collection Riesling, 2019 Pinot Noir and Chardonnay alongside nine wines from the Plantagenet current release portfolio on Sunday 15th August 2021, including the Icons.
Relish in Cabernet from a cool climate region; how does it stack up? This is an opportunity to examine how well the Great Southern region produces its own classic Cabernet Sauvignon style.
Choose from Lunch or Dinner with 12 wines and 5 courses for $95 or the Masterclass with 12 wines and Nibbles for $35.
Hosted by our Chief Winemaker Mike Garland, this is your chance to learn more about our Mount Barker cool climate wines, their exciting nuances and elegant characteristics from a devotee and much-revered expert from the Great Southern. Tom and Jo Wisdom will join him to channel their passion for the brand and speak to its heritage.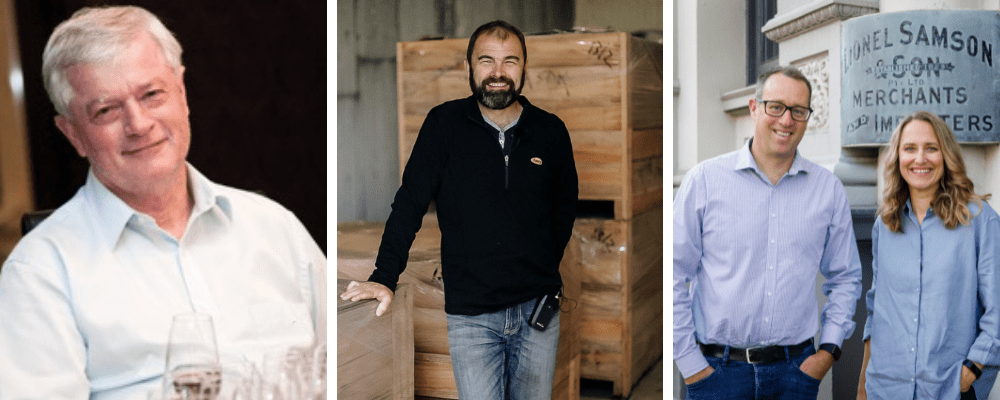 'Angevin' Riesling 2020
Gold Medal – WA Wineshow Awards 2020
5 Stars – Winestate Magazine 2020
"It's exquisitely styled, showing Granny Smith apple, lime cordial and white flesh nectarine notes on the nose, leading to a concentrated palate that delivers outstanding fruit purity and poise. Refined and stylish with a graceful future ahead." 95 points – Sam Kim, Wine Orbit
Wyjup Collection Riesling 2020
New Release

'York' Chardonnay 2020
New Release
Wyjup Collection Chardonnay 2019
New Release
96 points – Ray Jordan, WA Wine Guide
5 Stars – Winestate Magazine 2021

'Normand' Pinot Noir 2020
New Release
Wyjup Collection Pinot Noir 2019
New Release
"Medium to full ruby colour with traces of purple and brick-red in the meniscus. The bouquet is likewise a bit forward, with potpourri and rose-petal aromas, showing a touch of development. The palate is full and rounded, soft and deliciously flavoursome, with an array of complex flavours revolving around dried herbs and dried flowers, mellow and multi-faceted and remarkably rewarding to drink already. Oak has been deftly handled. A very fine and gorgeously charming pinot." 96 points – Huon Hooke, The Real Review<
"Who said the Great Southern doesn't do great pinot? This is deep and complex with a rich, round palate and loads of charm. There's some forward development in its potpourri, rose-petal and dried herb aromas, oak deftly controlled. Ready now but would reward keeping." 96 points – Gourmet Traveller Wine Guide 2021

'Lancaster' Shiraz 2018
95 points – Ray Jordan, WA Wine Guide
96 points – Sam Kim, Wine Orbit
"Great Southern Shiraz (this wine is from Mount Barker) has a precision and a sense of inevitability about it: the depth and hue of the colour, the freshly picked fruit, the multi-spices, the cracked pepper, the persuasive tannins and the length." 96 points – James Halliday, Wine Companion
"Powerhouse Shiraz from an outstanding year. Deep, spicy, dark plum with dollops of chocolate. The palate is a maze of intricate workings with gravelly, loamy textures, savoury oak and tarry licorice. The dry, savoury tannins help to focus the palate while the oak holds it even closer. A wine for the future." 96 Points – Ray Jordan, WA Wine Guide 2021
"Impenetrably deep and purple, The nose is inky and closed at the moment, but with air, it reveals itself more. Plum, mulberry, pepper, and exotic spices like clove and aniseed meet the nose in suave harmony, and a mouthful follows those cues in a medium-bodied, seamless wine that builds across the palate to a very long, grippy finish" 96 points – Ralph Kyte-Powell, The Real Review.
'Aquitaine' Cabernet Sauvignon 2018
Award for 'Best Cellaring' below $50, WA Wine Guide 2021
"The greatest contemporary bargain in Australian cabernet is a classically stylish, medium-bodied, finely structured and superbly elegant wine of remarkable balance and poise. Scented with dusty cigar box and cedary scents of cassis, blackberries, dark plums, violets and dried herbs, it's long, complete and finely crafted. Underpinned by fine, crunchy tannins, its pristine expression of cassis, dark plum and mulberries knits tightly with smoky cedar/cigar box oak, extending with exemplary length and style towards a lingering and artfully balanced finish. Top drawer stuff. Old World style and charm." 96 Points – Jeremy Oliver
"This is clearly one of the best cabernets from Plantagenet in this range. It is classically structured and defined. Deep blackcurrant strikes in waves, then the ironstone minerality and black olive hit. Dark chocolate and black fruits merge seamlessly in the middle palate, while the fine, sinewy tannins extend to the finish." 96 Points – Ray Jordan, WA Wine Guide
"A magnificent rendition; the beautifully expressed bouquet shows cassis, dark plum, cigar, toasted nut and subtle spice notes, leading to a concentrated palate that offers excellent fruit purity as well as an elegant oak infusion. It's supple and flavoursome backed by fine chalky tannins, making it classically structured and impressively long on the finish." 96 Points – Sam Kim, Wine Orbit.
"From Mount Barker, and includes 4% shiraz, open-fermented whole berries, 13-38 days on skins, matured for 20 months in French oak (35% new). Fresh, juicy fruits jump around on the medium-bodied palate, tannins allied with acidity making their mark on the finish and aftertaste." 93 points – James Halliday, Wine Companion
"A gently smoky edge and flinty dark berries abound here. There's a cedary edge and then a wall of ripe dark berries. The oak glazes the palate with vanilla tones, and the rich core of ripe dark berries hold long." 93 points – James Suckling
Wyjup Collection Cabernet Sauvignon 2018
5 Stars, Winestate, October 2020
Award for 'Best Cellaring' above $50, WA Wine Guide 2021
"Wonderful expression of the essence of Cabernet. The aroma is a lovely combination of liqueur cherry, black currant, and tobacco leaf. The palate seamlessly hugs together with its tanning and oak cloak. Has brilliant brightness and energy. Firm, minerally thread of oyster shell and fresh seaweed. It is so complex." 97 points – Ray Jordan, WA Wine Guide 2021

"In the blink of an eye, the new owners have released a wine that pays worthy tribute to Plantagenet founder Tony Smith. It is sourced from the Bouverie vineyard, which was planted back in 1968, making it one of the oldest in the Great Southern. A deep mix of gravelly dark berry with a little edgy graphite and ironstone. A lovely perfumed, spicy note mix greets immediately. The palate is tightly wound yet generous with immense power and concentrated depth of fruit Oak and tannin combination works its magic to hold the line through to a very long finish." 97 points – Ray Jordan, The West
'Lionel Samson' Cabernet Sauvignon 2018
"The intention is that this wine will only be released from the best vintages, and 2018 was certainly one of the very best. Sourced from the Wyjup vineyard planted in 1971. Leafy, wild fruit aromas with a mix of bay leaf and meaty tobacco and black olive. It's compelling stuff from the outset. The palate has excellent structure, based on the deeply concentrated medium to full-bodied fruit and supported with slick, fine tannins and a neat oak addition. A regal and polished cabernet worthy of a first release." 98 points – Ray Jordan, The West
A remarkable line-up. Contact Lamonts Wine Store Cottesloe to book.