Red Revival – Ray Jordan
July 20, 2021
When Tom Wisdom joined Plantagenet as managing director three years ago, things started to happen. There was a new sense of urgency about the place with a rejuvenation of existing wines and the emergence of new wines that moved into the upper echelon.
Earlier this year, Wisdom and his wife, Jo, acquired the Plantagenet brand and outstanding Wyjup vineyard from the owners' Lionel Samson Sadleir's Group. Plantagenet was planted by Tony Smith in 1971 and is one of the pioneering producers of the Great Southern wine region.
Wisdom is a sixth-generation descendant of Lionel Samson himself, so he is well placed and well aware of the importance and significance of acquisition, approaching it with a clear intention to build on the history of the place and the region to pursue the premium end of the market. The process began in 2019 with the release of the Wyjup Collection, which maximises the old-vine fruit being sourced from the 50-year-old Wyjup vineyard.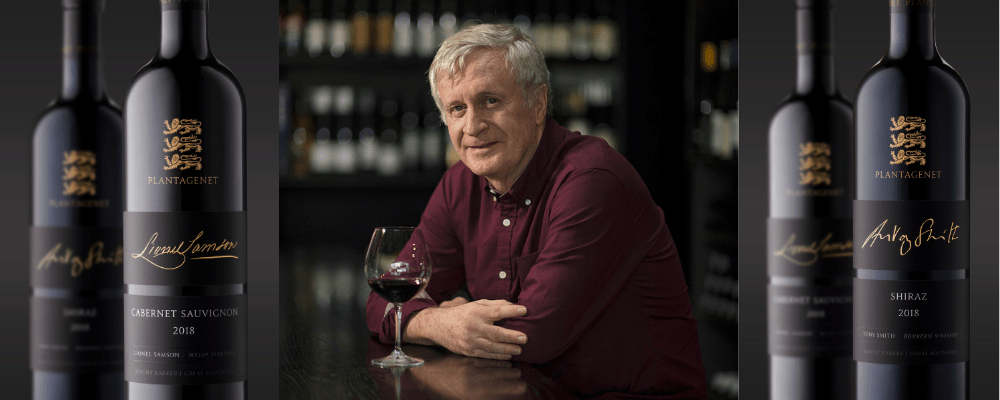 And now comes the release of two icon wines named in honour of Lionel Samson and Plantagenet founder Tony Smith. Smith, who emigrated from England in 1960, was a tireless contributor to the development of the Great Southern wine industry, making a significant contribution to the region's wines and to the broader wine industry, sitting on countless boards and committees.
Both wines are fitting recognition of the contributions both men made to the state. Plantagenet makes a broad range of reds and whites, but for me, it is cabernet sauvignon and shiraz that are the strong suits.
Ray Jordan, The West – July 2021
READ HERE THE REVIEW OF THE 2018 'Tony Smith' Shiraz – 97 Points
READ HERE THE REVIEW OF THE 2018 'Lionel Samson' Cabernet Sauvignon – 98 Points